Introducing the Tack-N-Go Portable Folding Saddle Rack
The TACK-N-GO portable folding saddle rack is the professional's choice for keeping saddles and equipment handy in any location.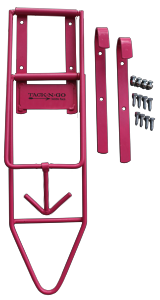 The ultimate accessory for the arena, barn, round pen, trailer or stall area. This simple, heavy-duty, folding saddle rack will stand up to hard use and heavy saddles anywhere you use it. For work or play, the uniquely durable design will hold both english and western saddles with a convenient hanging hook that keeps bridles, halters and leads in an easy to see, easy to reach location. Set up is swift and easy with the option of portable hangers or permanent wall mounting.
The TACK-N-GO folds down in seconds, making it ideal for the training pen!

Comes with everything you need!
Foldable Tack-N-Go in Black or Pink
Hanging Brackets for Panels, Fences and Stalls
Bolts for Attaching Hanging Brackets
Heavy Wood Screws for Wall Installation
Powder coated for lasting durability the Tack-N-Go Saddle Rack is available in Black or Pink.